While all Municode NEXT users can use eNotify to sign up to receive email notifications any time a specific online code is updated, MuniPRO subscribers have additional subscription benefits. In addition to the ability to quickly and easily manage notification subscriptions for partial or full municipal codes, you can also manage notification subscriptions in bulk by state. This article will show you how to add and manage eNotify notification subscriptions with MuniPRO.
Important Notes
MuniPRO users are notified any time a newly enacted but not yet codified ordinance is submitted to CivicPlus by the municipality.
You may sign up for notifications for as many codes as you like.
Sign Up for Code Update Notifications for Portions of a Code
Navigate to your Dashboard


Find and review the desired Code using

MuniPRO Search

or the

code library

Select the Notifications button in the top-right corner of the screen



Note: The Notifications button can be accessed from any webpage within an online code.

Check and uncheck the desired boxes to indicate which codes or sections of code you wish to be notified about



Note: Use the blue + and - buttons to expand or contract the list of options.

Click Submit

A Success! You are now signed up message will appear

You will now receive notification emails following the receipt of a newly enacted ordinance or an update to an online code

Repeat Steps 2-5 for any municipal codes with specific chapters or code sections you would like to receive update notifications for.
Update Notification Preferences for Portions of a Code
If you wish to make changes to your subscription, simply navigate back to your desired online code and re-select your preferences in the signup form.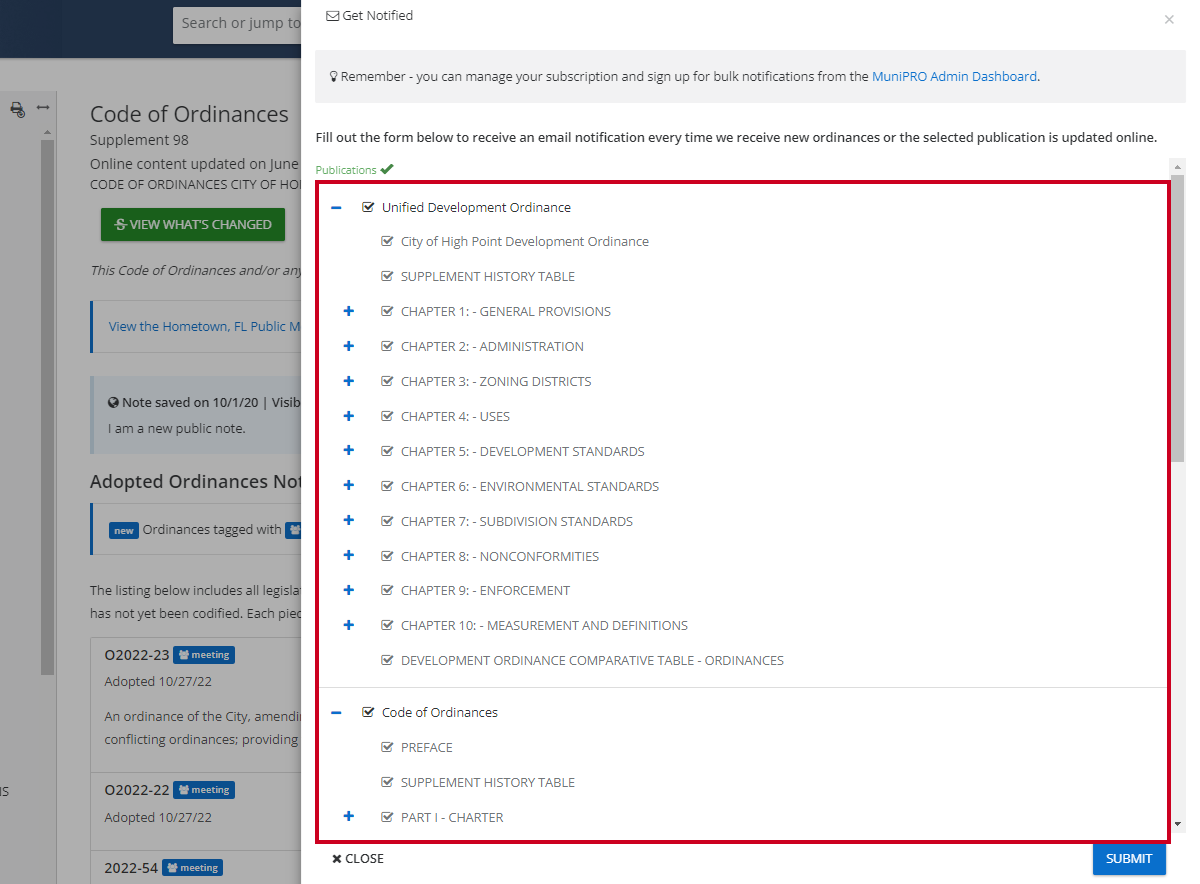 Unsubscribe from Notifications for Portions of a Code
To unsubscribe from code update notifications for specific portions of a code, simply click the unsubscribe link in the most recent update email that you have received.


Sign Up for Bulk Code Update Notifications
Navigate to your Dashboard

Navigate to the Notifications section

Click Manage Notification Subscriptions

Click the desired state on the United States map



Note: To view and select from an alphabetical list of states, click List above the map.

Check the box next to the state name to sign up for notifications for all codes within that state, or check boxes next to individual municipalities as desired

Click Save

Your selections will appear in the Subscriptions list

Repeat Steps 4-6 as necessary
Edit Bulk Code Update Notifications
Navigate to your Dashboard

Navigate to the Notifications section

Click Manage Notification Subscriptions

Click Edit (pencil icon) next to the subscription you would like to modify

Check the box next to the state name to sign up for notifications for all codes within that state, or check boxes next to individual municipalities to subscribe or unsubscribe to notifications as desired

Click Save

Your updated selections will appear in the Subscriptions list
Delete Bulk Code Update Notifications
Navigate to your Dashboard

Navigate to the Notifications section

Click Manage Notification Subscriptions

Click Delete (trash can icon) next to the subscription(s) you would like to delete



Note:

In some cases, code notification subscriptions that were signed up for individually rather than in bulk will not be removed when using the bulk delete feature. If this occurs, follow the directions in the

Unsubscribe from Notifications for Portions of a Code

section above.

The subscription(s) will be deleted from the Subscriptions list

Resources