MuniDocs presents users with a predefined list of document types to pick from during the upload process. The system employs this approach to provide high-level organization and to ensure consistency when categorizing documents for search filtering.
Full List of Document Types/Categories
The following is an alphabetical listing of the document types/categories that can be selected during the upload process:
Agendas
Annexations
Applications
Audits
Budgets
Bylaws
Contracts
Executive Orders
Exhibits
Fee Schedules
Forms
Manuals
Maps
Minutes
Misc. Documents
Notices
Ordinances
Plans
Policies
Proclamations
Referendums
Resolutions
Rules
Unofficial/Unapproved Transcripts
If there is a document type that you would like to see added to the list, please contact Support. We would be happy to consider your request.
Use Folders to Create Subcategories
Once a document type is selected, you can create and use any level of subfolders to organize those documents.
For example, your municipality might have both council meetings and committee meetings. When uploading the meeting minutes for both of these meeting bodies, you should select "Minutes" as the document type. To further distinguish the minutes of the two meeting bodies, and make them more searchable and accessible, you could create a subfolder for "Council Minutes" and a subfolder for "Committee Minutes" under the "Minutes" document type. Within each of these subfolders, you can have other folders narrowing down the minutes by year, month, or other desired criteria. You can create as many nested folders and subfolders as needed.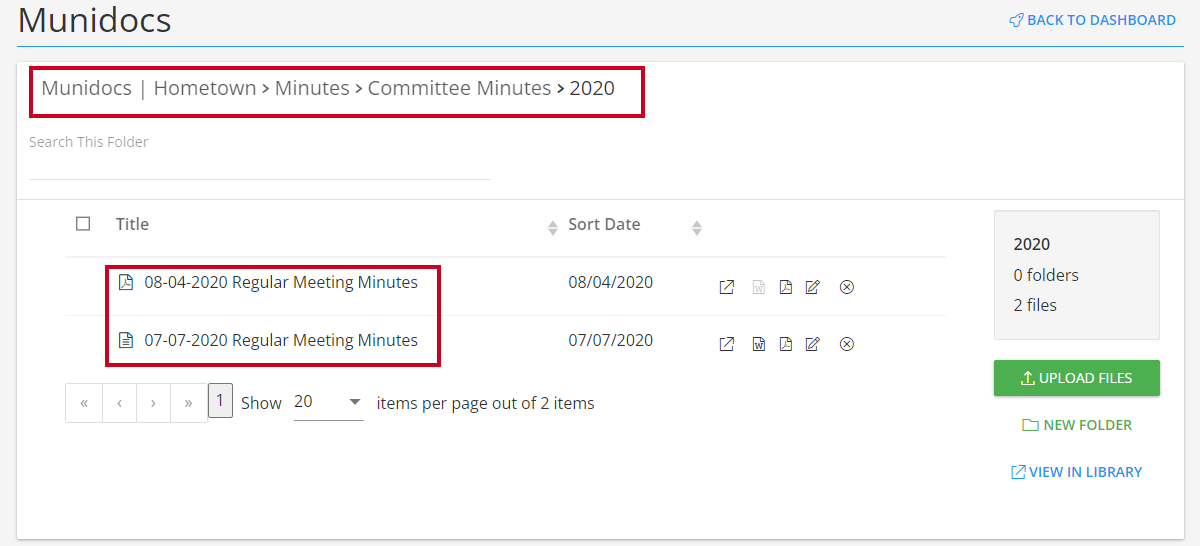 For information on how to select or create a new folder when uploading a document, see the Upload a Document section of the Upload and Manage MuniDocs Documents article.
Resources